Support Services for the Deaf provides two levels of staffing: support staff and senior support staff, based on level of experience and responsibility. For twenty-four hour support, a client is assigned a minimum of five support staff. This level of staffing allows employees to work eight-hour shifts and no more than forty hours per week.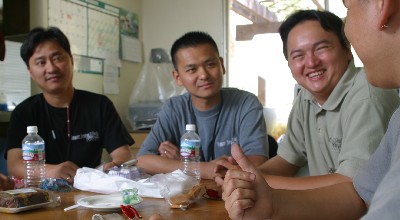 Photo Credit: Craig Fujii
In addition to support staff, a case manager provides direct staff supervision for some portion of each day.
Case Manager Edward Kwoh (second from left) meets with senior support staff Christopher Kwok, Tao Tran and Matthew Vazquez (left to right).